For The First Time, I'm Pulling Back The Curtains
And Revealing My Tested and Proven...

...Even If You Have No Clue or Experience.

From: Matt Bacak
Re: ignored Facebook secrets
I'm not a Facebook guru, but I've discovered a formula (almost by accident) that allows me to leverage Facebook by diving-in and "doing" and learning how to leverage this giant by trial and error and lots of testing.

A "Trifecta" strategy that delivers a dramatic boost in ACTIVITY from my leads and customers.
Why is that important?
If you're out of sight, you're out of mind!
By following my formula, you'll:

Stay in front of your audience (because
you're going where they are)!

Build your brand.

Create a "buzz" for your offers.

Encourage interaction! (this is KEY)

Build relationships.

Become more "real" and relatable in the
eyes of your audience (instead of just
being a faceless "marketer"), and...

Ultimately experience a noticeable
increase in your sales!
Success Leaves Clues...
If you want to achieve success with anything, do what successful people are doing. It just makes sense.
My name is Matt Bacak and I've built several multi-million dollar companies online serving over 503,372 customers.
I've spoken at events around the world and helped thousands of entrepreneurs just like you grow their business and achieve great things.
Many of my products and books have become best sellers. In fact, one of my product launches was one of the biggest in history, setting record sales in Clickbank.
I'm not telling you these things to impress you, but to impress upon you that I am someone who is credible and can be trusted to provide you with information that's true and real.
What I'm doing on Facebook is what's working for me and working like crazy.
You don't have to re-invent the wheel, just do what I do. I'm pulling back the curtains and giving you a VIP tour.

You don't have to make the mistakes I made, or go through the "school of hard knocks" and wait months to figure it out.
Today, you have a chance to skip to the front of the "Facebook success line" and save lots of time, money, and frustration from trying to figure it out on your own because I'm going to show you everything I've learned in a new and revealing video called:
Facebook Fortune Formula
Proven and Tested Trifecta Marketing System!

Nothing is left out. Just hit the Play button and look over my shoulder as I show you step-by-step (on screen) what I do and why I do it.

MP4 Video

- A 1 hour 57 minute revealing video where I go into my personal Facebook account and dissect everything I'm doing right now to dramatically boost my traffic flow and sales by as much as 300%!

MP3 Audio

- Don't want to be tied to your computer to digest this valuable info? Listen on the go (on your iPod, iPad, etc), wherever is convenient for you!

Transcript

- You'll receive a complete word-for-word transcript of the entire presentation allowing you to revisit any of the tips, advice, or insight provided (any time you want).
Here's a Sample of What You'll Discover: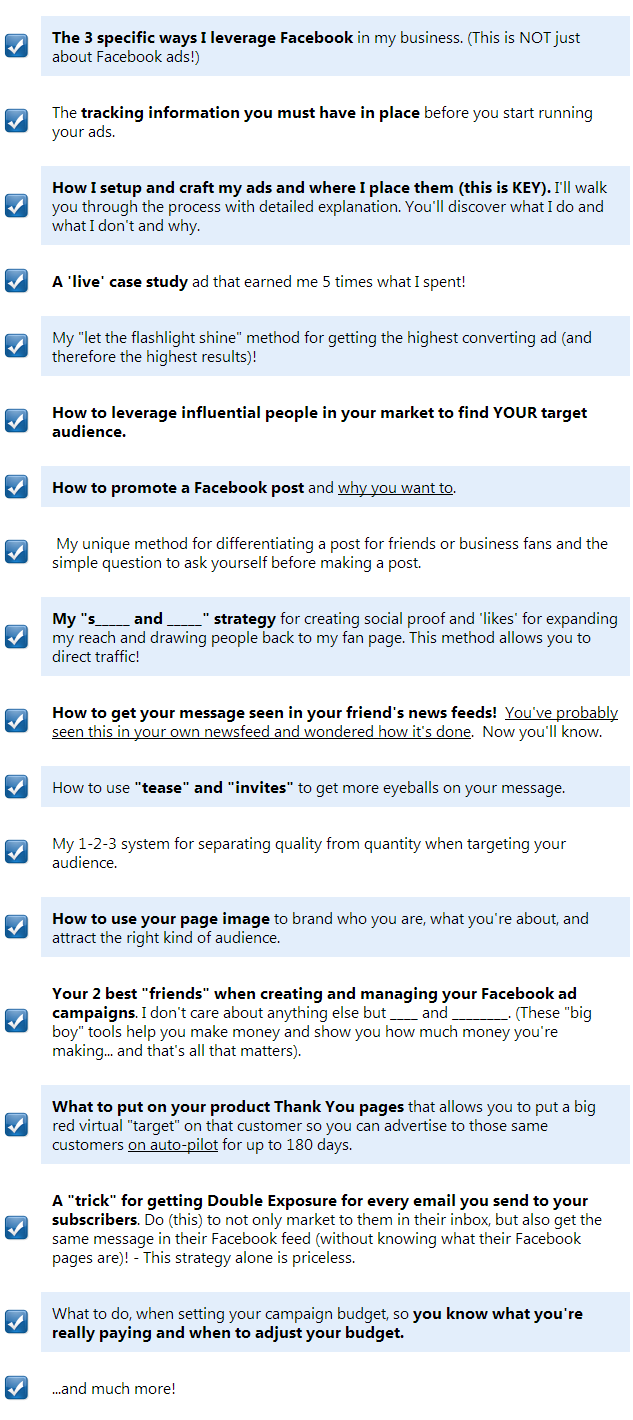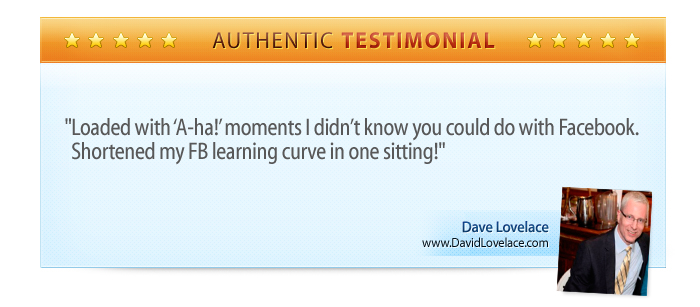 "Sounds Great. What's This Going
To Cost Me?"
What would you expect to pay for this caliber of information?
If you're stuck and struggling to take your business to the next level; if you've tried other methods and failed or experienced poor results, then chances are, you're listening to the wrong people.
The truth is...
Investing in training containing proven and tested secrets & information (from a credible source) that provides you with a competive edge, allowing you to easily inject into your current marketing funnel for a measurable boost in your profits, would be a wise decision at any price!
But I'm all about helping people who need it, or want it, the most. That's why I'm making this extremely affordable for any budget.
In fact, you're going to be pleasantly shocked at the price* :-)
However, I must WARN you. This is a...

A "Dime Sale" means the offer is on an increasing price schedule.
In fact, at this very moment (while you're reading this), someone is likely ordering and the price is going up so please DO NOT close this page or the price could be higher when you return!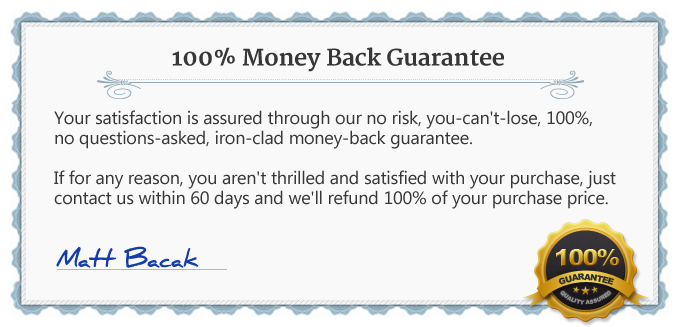 There is absolutely no risk, whatsoever on your part.
The burden to deliver is entirely on me, so order with confidence knowing that if for any reason (or no reason at all) you're not completely happy with your purchase, you'll receive a no-hassle refund.
All you have to do is say "maybe" today, then take 60 days to decide if it's right for you.
You Really Can't Afford Not
To Invest In This!
Your tiny investment in "Facebook Fortune Formula" has the potential to produce huge results in your business. So I pose this question...
What will it "cost" you if you don't take action today?
Are you struggling to generate the kind of sales and profits you want and live the kind of lifestyle you want and deserve with your current path?
If you answered "No", then this isn't for you. Just keep doing what you're doing.
But if you answered "Yes", then it's time to do something different.
The choice is yours...
You can keep doing what you're doing and getting the same results or you can choose to take a different approach. The bottom line is... if you won't take a step forward, you'll continue standing in the same place.
"Successful people DO what others don't want to do!"
What do YOU want to do today?
Do you want to do what successful people are doing? Or what "others" are doing?
It's decision time...

- Click the Button Below to Order Right Now -
*The current (and lowest price) is shown above. If you leave and think about it, the price will be higher when you return, so it's in your best interest to act now.

Sincerely,



Matt Bacak
P.S. If your current marketing efforts are not producing the kind of results you desire, then it's time to think outside the box. Order your copy of "Facebook Fortune Formula" now and make the change today.
P.P.S. Remember, the price is rising during this offer. That means if you decide to go away and "think about it", you'll pay more when you return. Why pay more? What's to think about? Your purchase is guaranteed.
P.P.P.S. Your order comes with zero risk! You're covered by my 60 day "no hassle money back" guarantee. You have absolutely nothing to lose, so order now.